Pian Upe Game Reserve is one of the largest wildlife conservation areas in Uganda – second only to the Murchison Falls National Park. It is located in the Karamoja region in the northeastern part of Uganda. The reserve covers an area of about 2,788 square kilometers and is found between Kidepo National park and Mount Elgon National Park. Pian Upe is bordered by the Bokora Wildlife Reserve and Matheniko game reserve in different directions. Unlike Matheniko and Bokora, Pian Upe game reserve is part of the Mount Elgon Conservation Area. Pian Upe is very close to the Eastern town of Mbale. It takes about 2 hours to reach the reserve from Mbale town and 6 from Kampala city. The area started as an animal sanctuary in 1958 before being upgraded into a wildlife reserve in the 1960s.
Pian Upe Wildlife Reserve is worth a one-day-two-night visit on your way from Jinja / Sipi Falls / Mt Elgon to Moroto or Kidepo Valley. Pian Upe is Uganda's second largest protected area bordering various mountain ranges and water bodies. This makes it a birding hotspot, home to endemic wildlife species like the Roan Antelope and archeological site for rock paintings.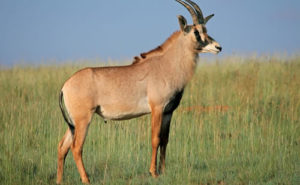 Pian Upe Game reserve experiences semi-arid conditions with one major wet/rainy season in a year. The plants and animals found have evolved to survive without water for long periods during certain days of the year. The vegetation includes vast untouched grassland and woodlands. The main tree species are desert date and red acacia. Other species include Harrisonia abyssinica, red spike-thorns and bushwillows. Shrubs like woolly caper bush and butterfly plea dominate much of the reserve. Other vegetation species found in the vast plains include lemon grasses, thatching grass, beard grass, red nut sedge and bristle grasses.
The most striking thing about Pian Upe wildlife reserve is a landscape that consists of vast plains, rocky outcrops and mountains. Pian Upe Wildlife reserve is home to a respectable collection of large mammals, birds and reptiles. Visitors to the reserve should expect to see zebras, elands, gazelles and oribi. Other animals include spotted hyenas, civets, jackals, serval cats, cheetahs, leopards, topi, wildcats, buffaloes, roan antelopes, reebucks, Duikers, Dik-dik, the Ugandan Kob, waterbucks, hares, porcupines, the rock hyrax, aardvark and hedgehogs. The primates include Olive baboons, patas monkey and Vervet monkeys. Pian Upe game reserve is also home to reptiles like rock pythons, puff adders, water snakes, skinks, geckos, chameleons and monitor lizards. The most attractive bird here is the ostrich.
Two main tribes live near this vast wilderness – The Pian who are a sub-division of the Karamojong and the Upe who are a mixture of both the Karamojong and Kalenjin. Pian Upe Wildlife reserve derives its name from these two indigenous African tribes.